Perhaps like me, you've found that your old carefully crafted lesson plans don't work so well in this new era of uncertainty and isolation.
One obvious problem, of course, is that instruction and engagement are very different online. But another problem is that learner needs and goals — the very motives underlying the study of English — are likely to shift dramatically, if they haven't already.
Already, I find my icebreakers melting into air: How was your weekend? What have you been up to? What are your plans? And it's difficult to steer a conversation towards more 'productive' and 'practical' topics, when there's only one thing anybody's thinking about.
But still, many functions of language remain virusproof — namely, its capacity to foster connection and empathy, to debate and clarify problems, to soothe the psyche, or simply to pass the time. Before English (and education more generally) became dominated by economic imperatives, it thrived on its own natural, humanistic terms: as an art, as a game, as an end in itself. If there are any bright sides to this pandemic, hopefully one will be a recalibration of pedagogical priorities.
With that in mind, here are some activities I've used or plan to try out in my online classes, along with some resources for parents and teachers I've come across in recent weeks. If you have an activity or resource that has helped you in teaching English in the age of COVID-19, I'd love to hear about it.
---
Activities for Beginners
These activities work well for all ages and skill levels, but are particularly helpful for pre-intermediate learners who need practice using English beyond the bounds of rigid grammar exercises or vocabulary drills.
See - Think - Wonder
In this classic language task, learners answer three questions about an image: What do you see? What do you think? What do you wonder? Moving from information in the frame to imaginative speculation, you can use this activity both to introduce and to review a range of practical grammar and vocabulary. (And if Edward Hopper feels too close to home, you could try puppies instead.)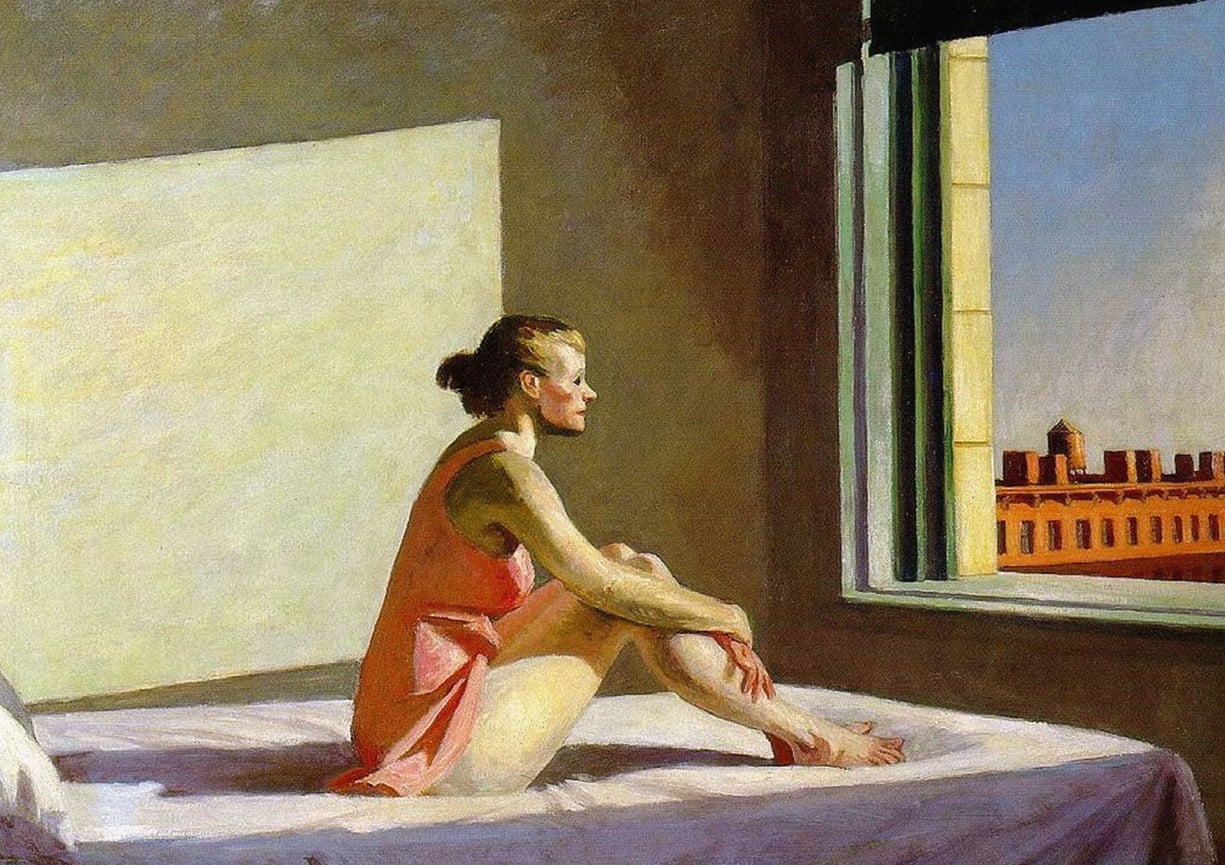 ---
Show + Tell
Quarantine is as good a time as ever to sort through all those photos you've taken and scarcely looked at. Share them with your learners and let them ask questions (Where are you? Who is that?) or try to guess the context of the photo (That could be your brother. That might be your friend). Keepsakes and knick-knacks around your home could be showcased virtually as well.
---
Narrate Silent Scenes
A more challenging variation on seeing and showing is the information gap, where only one learner can view the situation in question, and must describe it to another. Photos and illustrations can be used, but short silent videos like clips of Mr. Bean work well too. Or use some funny animal videos instead.
---
Collaborate on a Haiku
As city sounds subside and birds tune up for spring, now is a fine time to (re)introduce learners to the art of the three-line nature poem, haiku. Notebook designer Baronfig has created The Global Hiaku Project, where visitors can write poems together, contributing one line at a time. A solo, offline approach could be taken with this task as well, of course.
---
Activities for Intermediate English Learners
These activities require a higher level of competence and confidence in reading and communicating ideas and opinions, but work equally well for individual learners and groups. Lower-intermediate learners may need time outside of a scheduled lesson to read, write down their thoughts, and look up key vocabulary, while upper-intermediate learners could be challenged to read and discuss these topics on the spot.
Talking About Current Events
How has the coronavirus affected your life? How can we help one another during this crisis? Which places do you wish you could have all to yourself? NYT's Learning Network has created discussion questions for recent articles in their newspaper — plus practical tasks like how to describe and discuss data.
---
Dorky Takes on Dark Times
Examine cultural references and the funny side of self-isolation with pieces from The New Yorker's Daily Shouts section like Quarantine Tips from My Cat, The Isolation Olympics, and Adages for the Age of Quarantine. Students could then try their hand at creating their own cartoons or jokes.
---
Skype a Scientist
Born during an earlier (and still on-going) plague known as 'fake news', Skype a Scientist helps teachers and parents arrange virtual interviews and laboratory tours with working scientists around the world.

Simple activity ideas: have learners brainstorm questions to ask, then write a report or reflective essay following the virtual Q & A. For something more ambitious, browse through the site's teaching resources for more great ideas.
---
Do's and Don'ts for Virtual Meetings
What is proper video-chat etiquette? NPR, NYT, WIRED, even a descendent of Emily Post have chimed in. Discuss the differences between virtual and 'real life' chats, or business and casual calls.
Have students brainstorm their own rules and tips, perhaps recording videos to illustrate. For group lessons, try a jigsaw discussion: give each student one of the articles (or one of the tips) to read summarize for the others.
---
Cooking in Quarantine
Food can be a fun topic to discuss, and many self-isolating restaurateurs have joined an already vast legion of internet personalities talking food. (How many of these influencers are actually worth their salt? Discuss!)
Activities to try: Have learners watch a tutorial and extract its bare-bone recipe. Next, talk about what ingredients are needed for a clear and useful set of instructions. (Many foodpreneurs garnish their tutorials with personal stories and poetic imagery. Why? Do words influence your tastebuds?)

Going further, you could reverse the process and have learners draft a recipe for their favorite lockdown dish, then turn it into a script, and finally a video. (Question: What goes into a piece of tasty infotainment?)
---
Literary Medicine for Melancholy
In her essay 'Finding Poetry in Illness', journalist Jennifer Nix describes a poem's power to 'crack the titanic block of dread and let in some light.' In times like these, it may help to raid the Poetry Foundation's stockpile of poems on anxiety, loneliness, illness, grief, as well as resilience and recovery. (Check out their tips for teaching poetry remotely as well.)
Apart from simply reading and analyzing the poems, learners can also hone their memorization skills and test their chops at public performance. The Poetry Foundation also has a nice list of writing prompts, organized for age appropriacy, for learners who want try their hand at composing a poem.
---
Extensive Writing + Gratitude Journals
Another form of literary therapy to try: gratitude journaling. Even before the pandemic, this low-tech activity was seeing a surprising surge in popularity, despite tech-savvy alternatives like Instagram and WordPress. Why the revival? How do these various options differ? And what's good about gratitude?

This activity can also be paired with a jigsaw discussion of tips and benefits. Lower-intermediate learners might start with a draft in their mother tongue before endeavoring to translate these feelings (which can be hard to articulate even in one's native language). For an English-only option, start small (one sentence or sentiment) and coach learners to extend & advance their ideas.
---
Activities for Advanced English Learners
These activities are suitable for both advanced learners (teens or adults) as well as native English speakers (in middle or high school language arts courses) who wish to build their confidence and critical-thinking skills.
Extensive Reading + Virtual Book Clubs
A sad fact of most English courses is how little time gets devoted to reading, which is crucial for honing advanced language skills.
The Guardian has put together a list of fun books for both parents and kids; and for older learners, have a look at my list of easy English books for adults. Long-form articles are also a great source of free reading material. One apt piece to consider: William Deresiewicz's 2009 essay, 'Solitude and Leadership'.
---
Art (as)Therapy + Virtual Museums
Wouldn't it be nice if we all emerged from quarantine not just fitter and better read, but with deeper self-knowledge and emotional intelligence as well? It is toward these ends that the authors of Art as Therapy examine the question, What is Art For?
This is a question that has, quite unfairly, come to feel impatient, illegitimate, and a little impudent... What if art has a purpose that can be defined and discussed in plain terms? Art can be a tool, and we need to focus more clearly on what kind of tool it is — and what good it can do for us... What psychological frailties might art help with?
For learners ready and willing to go beyond seeing, thinking, and wondering, the book (or its more bite-size companion website) offers a useful segue to more-philosophical modes of language. Technology resources permitting, you could also pair this activity with a virtual museum tour.
---
PowerPoints Presentations on Random Topics
'Whenever I have an unstructured conversation with my friends these days, we just end up talking about quarantine and the coronavirus', explains reporter Julie Beck in The Atlantic. By contrast, a virtual PowerPoint party 'forces you to talk about other things'. Advanced learners could venture to incorporate some TED Talk tips, or perform a bit of Kate McKinnon–style improv.
---
What's Wrong with This TED Talk?
TED Talks are a nice source of content for English learners, but it's fair to say their style and substance can be problematic. Critics have called the talks smug, superficial, middlebrow megachurch infotainment. And they have remarkably little to show for 30+ years of claiming to make good ideas go 'viral'.
One potential activity: unpack these criticisms, and practice applying them to a particular talk. For contrast: discuss how even a seemingly strong talk (like the one below) can fail to achieve its aims. What's flawed about the message, the rhetoric, the tone, the context? What could be done to improve it, and more generally to improve how we talk about problems in the world today?
---
Tips for Educators Teaching Remotely
Now is not the time to uphold the standards of academia. It is the time to uphold & practice our humanity. ∼ E.J. Ramos David
---
Tips for Parents Schooling at Home
Everyone is learning right now, no matter our age. None of us have lived through a crisis of this magnitude... So why not take these weeks or months to let your children — and yourselves — think and learn outside the academic box. ∼ Astra Taylor
Photo by Faye Cornish